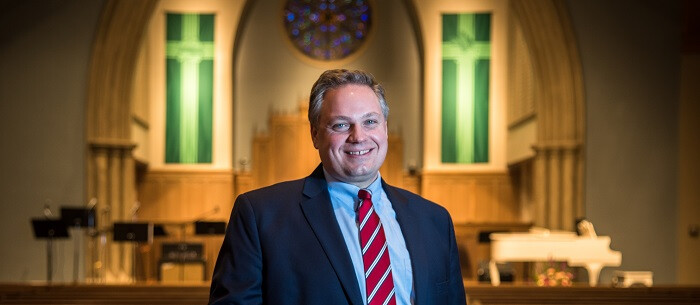 Nate Devlin
Senior Pastor
A native of Pittsburgh, Nate grew up in Butler County and graduated from Mars High School in 1994.
Nate was raised in a Christian home and attended mostly charismatic churches with his parents in his youth. He first sensed a call to ministry through his high school youth group.
While attending Geneva College in 1995, he was introduced to reformed theology along with his future wife, Holly. He and Holly served together at an on-campus ministry called "Upper Room." This experience confirmed Nate's call to ministry.
After graduating from Geneva with a Bachelor's degree in Christian ministry in May 1998, Nate and Holly married the following December. He then worked for a brief time in his father's construction business.
He began attending Trinity School for Ministry in Ambridge, from which he graduated in 2005 with his Master of Divinity degree and again in 2012 with his Doctor of Ministry from the same institution.
While serving as a student intern at Beverly Heights in 2005, he began a friendship and mentoring relationship with Senior Pastor Rick Wolling. Under Rick's guidance, which lasted more than 12 years, Nate was tutored in the art and skill of pastoral ministry.
Nate was hired as an unordained assistant pastor, then installed as associate pastor. In 2011, both Nate and Beverly Heights Church (which had left the PCUSA) were received together into membership at the first stated meeting of the Evangelical Presbyterian Church's new Presbytery of the Alleghenies (POA).
Nate has served on the POA's Church Development Committee, the Ministerial Committee and as Moderator. He helped establish a Presbyterian track within the Master of Divinity program at his alma mater, Trinity School for Ministry.
Nate succeeded Rick as Beverly Heights' eighth senior pastor last November.
"I'm extremely grateful to be here, extremely grateful to be your pastor," Nate says. He is passionate about the formation of Christ in the lives of God's people, which was the subject of his doctoral thesis.
Nate enjoys reading and writing and has published several articles with Touchstone magazine. He loves playing guitar and singing with his wife; rooting on the Steelers; working in the garden; and cooking a meal for family and friends.
Nate and Holly have three children: Hannah, Nathan and Abigail.