Covid Vaccine and Year End Musings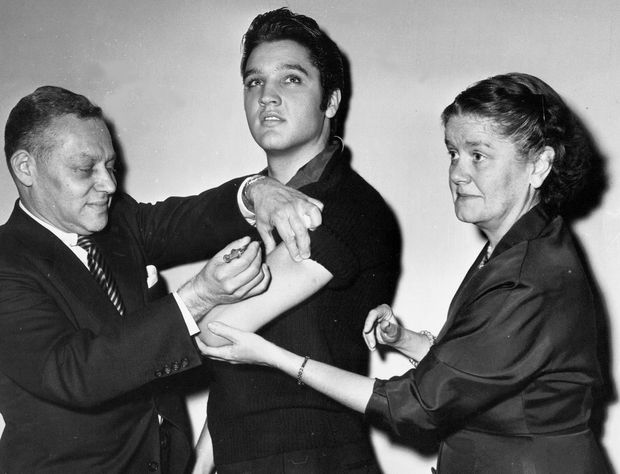 Praise the Lord! Two Covid vaccines are being distributed and are now being administered to front line workers and the most vulnerable. Vice President Pence, his wife and The Surgeon General all received the first of two injections of the Pfizer vaccine, live on TV. This goes a long way in boosting the confidence of the American people in the vaccine. It reminds me of when Elvis Pressley , in 1956 volunteered to take the Polio vaccine, live on The Ed Sullivan Show. Because of his popularity thousands flocked to the nearest clinic to become vaccinated. As for me, I'm waiting for Mick Jagger to get his, so I can see how it affects the geriatric population.
The roll out of the vaccine has not been without controversy, somehow we managed to pit the elderly against people of color for vaccine priority. Unless I'm mistaken age itself does not discriminate, you are either old or your not. In America we take care of the old, weak and the infirmed first, because that's what we do. The "woke" need to wake up! I am thankful that we were able to get this vaccine out in record time, a miracle in of itself!
"The future is uncertain and the end is always near," is a lyric from the Doors song, "Roadhouse Blues." Jim Morrison's answer to this quandary is, "Let it roll, baby, roll." I have heard this song many times but for some reason, just the other day these lyrics just got stuck in my mind. The lyrics sum up Morrison's philosophy of life in the brief lines of a song. Unfortunately, it was also the mantra for many other folks during the late 60's and seventies. Drugs, sex and rock n' roll was the worldview of many in this generation. A hedonistic lifestyle was needed to assuage the uncertainty of the future and eat drink and be merry because tomorrow you may die, was the excuse they needed to carry on. A purposeless life that has led many to destruction, including Morrison himself, who was found dead of a drug overdose, in his lonely Paris apartment. A rejection of God leaves one with no hope and leads to a life of despair. The Christian worldview, in contrast, we know that we are made in the image of our Creator God with a clear purpose in life. The Bible tells us in Ephesians 2:10, "For we are his workmanship created in Christ Jesus for good works, which God prepared beforehand, that we should walk in them." There is no need for us to let it roll, our future is certain and our purpose is clear. Amen!
We all have lived through a year of great tumult in our politics, a pandemic, panic, paranoia, unemployment, civil unrest. and the painful loss of friends and family. It is too painful to reiterate it all. I will leave that for others to do and maybe I'll go back and read it some other time. "So we do not lose heart. Though our outer self is wasting away, our inner self is renewed day by day. For this light momentary affliction is preparing for us an eternal weight of glory beyond all comparison, as we look not to the things that are seen but to the things that are unseen. For the things that are seen are transient, but the things that are unseen are eternal." (2 Corin. 4:16-18)
Wishing you all a joy filled Christmas. May the peace of the Christ child rest and abide in your hearts as he is called Wonderful Counselor, Mighty God, Everlasting Father and Prince of Peace. Merry Christmas to you and yours, and God Bless you all!
Art